Did we need a gay scene in Netflix's Castlevania? And was it justified?
A BIG FAT DISCLAIMER
I respect everybody's right to choose their own path in life and what to believe in. I don't care if you are gay, straight-6, or identify yourself as a battle chopper. What I do care about is my freedom and I believe this is something you care about as well.
I also don't want to be considered an idiot and therefore changing a well-known narrative for the sole purpose of serving some business/political agenda is detestable. No minority representative is dumb enough to believe Netflix turned Alucard gay for a purpose different than trying to go with the flow of the modern SJW trend.
If you are part of a minority then the chances are you are 1 in 1000 in which case being rarely portrayed in popular culture is called LOGIC, not misrepresentation.
Alucard is apparently gay now! Netflix did drop a big bomb by the end of Season 3 of their acclaimed anime show – Castlevania.
Do you remember the times when movies were doing fan service? Well, it seems now is the time, when they are doing LGBT services.
Nowadays every 2nd business out there is going "Woke" at the cost of …well, anything.
We were serving the majority of our auditory and now we are serving the minority. How did this happen? How is it even justified from a business point of view?
Everybody knows that you should be aiming to adjust your product to the biggest portion of your paying customers.
It's always the money, bro!
I don't really buy the idea that Hollywood is suddenly after some SJW ideals for the simple reason of being just to everyone. It's always about money!
So why did they decide that going for a minority part of their audience for the cost of losing a big part of their core one is financially justified is beyond me? I guess it's just a trend and also a big part weird decisions made by the top management.
As for the matter at hand – gay/bi Alucard.
It's not a big surprise that an immortal creature – namely a dhampir, who has lived for hundreds of years, will eventually be bored with their default nature (being that gay or straight) and will try new things. That's fine – it's logical, but not the way it was portrayed in the series.
We had 3 seasons of non-gay Alucard, also true to the game series (no gay/bi there as well). Then suddenly on the pre-epilogue episode of the 3rd season, we ended up with this sh*t.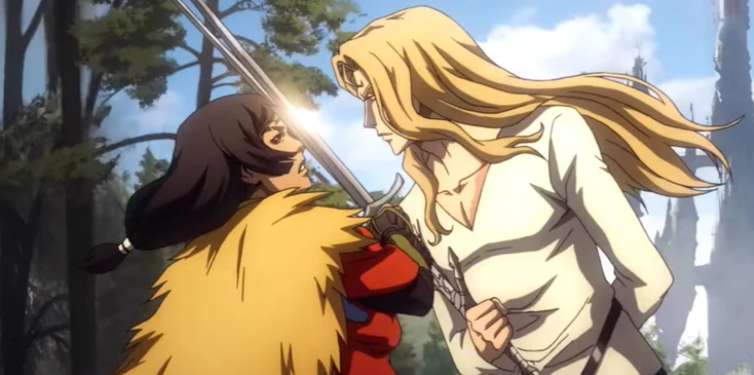 Another Point of View
I'm trying to imagine this from an LGBT point of view. Was it like they screamed in ecstasy, pleased by the perverted sex scene? Fists swaying in the air in front of the flickering TV screen and moans of primal passion? I doubt it!
You see, NETFLIX, your sexual orientation doesn't necessarily make you an idiot. We can see from a mile's distance when you shove something into the plot of a show to target a specific audience. When there is no build-up, when it's not doing justice to the story, and it's blatantly unnecessary! If I was gay I'd be even angrier than the straight audience of the show for treating me like a fucking retard who will just praise you for this bullshit move you pulled from your arses.
UPDATED: 25.12.2020 (After a couple of comments I decided to emphasize the specific reasons why I actually dislike what Netflix did here)
With that being said, a major problem I have with this is that the scene is unnecessary. I don't care about people's sexuality, it's a personal thing. I just don't like the case in which I'm forced to manifestation of a certain agenda through the mainstream media (being that a TV Show, Game, Movie, etc.) for the sake of bare-bone propaganda.
Did we need a gay scene in Netflix's Castlevania? My answer is obvious, what is yours?
There are quite extreme reactions which (Be warned) go into an explicit level of detail:
It takes a demented level of perversion to select a fan-favorite icon and subject him to a fetish that's known for carrying high-rates of STDs, given that unprotected anal sex among gay men is a leading cause for sexually transmitted diseases and contraction of the HIV virus.
Check the whole article here (18!): https://archive.fo/CAWnq#selection-653.0-653.276